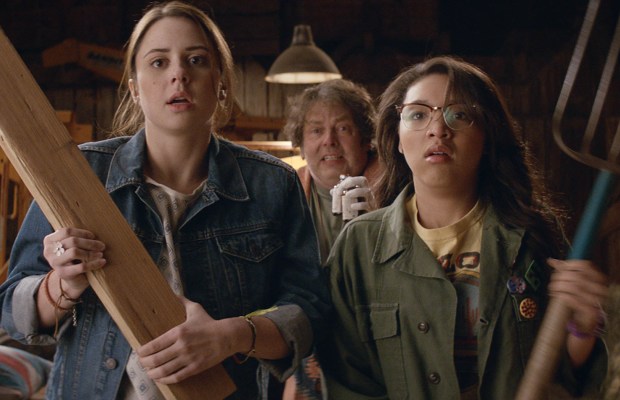 Stage 13 Presents
SNATCHERS
WATCH THE FIRST CLIP NOW: 

​
(Special Events, Midnight Episodic Showcase) World Premiere
Directors| Stephen Cedars, Benji Kleiman
Starring | Mary Nepi, Gabrielle Elyse, Austin Fryberger, J.J. Nolan, Nick Gomez, Rich Fulcher
Screenwriters |Stephen Cedars, Benji Kleiman, Scott Yacyshyn
Producers | Eric Fisher, Scott Hinckley, Elli Legerski
Logline | SNATCHERS is a horror-comedy series about a status-obsessed teen who has sex for the first time, and finds herself pregnant — with an alien. Now she'll have to team up with her nerdy ex-best- friend to fight back against an extraterrestrial threat, and hopefully keep her mom and friends from finding out.
Synopsis | SNATCHERS is a high school adventure story about friendship, self-worth, and aliens. Sara is one of the cool kids: she's got the right friends, makes the right jokes… and is totally terrified of losing her status. She'd be a lot more secure if she could just win back her super-hot ex, Skyler. But he's not interested unless they move to the next level. Sara decides to take the plunge, but soon discovers Skyler isn't just horny like a normal teenage boy. Something changed on his summer trip to Mexico. Something in his nards. When Sara wakes up the next morning nine-months pregnant, she goes to the only person she can trust: her nerdy ex-best friend, Hayley. After a trip to the clinic turns horrific, Sara and Hayley realize this alien problem is only just beginning. Over the course of the night, Sara deals with her dead-beat baby daddy, a disapproving mom, and judgmental friends. Ultimately, this is a story of a girl finding self-worth and learning to accept her choices… by killing aliens.
The 2017 Sundance Film Festival will premiere eight short-form episodes of this otherworldly horror-comedy series.
Attending: Stephen Cedars, Benji Kleiman, Scott Yacyshyn (Creators), Mary Nepi (Actress), Gabrielle Elyse (Actress)
Sundance Screening Information:
Public
PREMIERE – Saturday, January 21 @ 11:30PM – Prospector Square Theatre
Monday, January 23 @ 9:45PM – Broadway Centre Cinema 3
Press & Industry
Sunday, January 22 @ 2:30PM – Holiday Village Cinema