'THE CAPE CREATOR' DOCUMENTARY EXPLORES BATMAN'S SECRET CO-CREATOR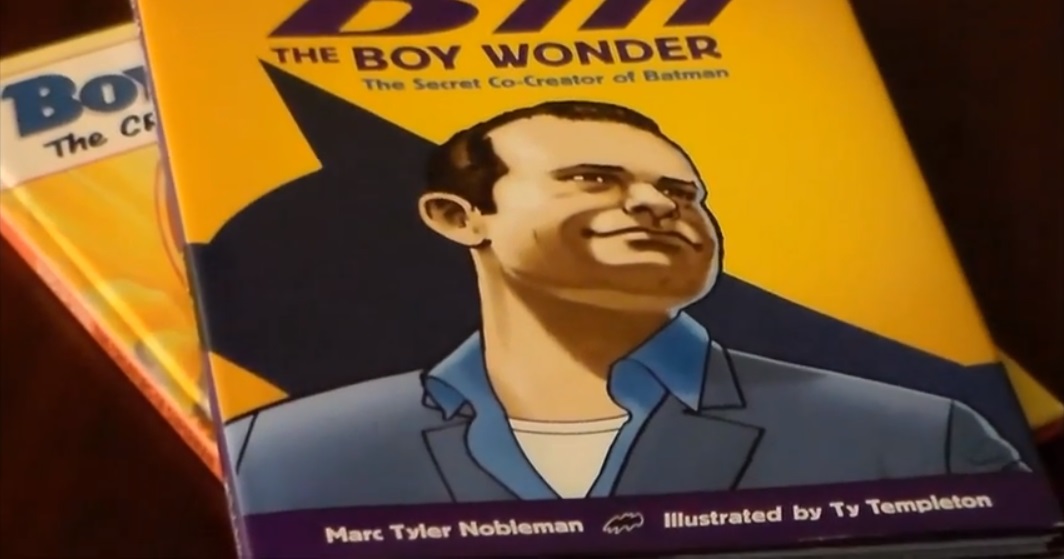 This year marks the 25th anniversary of the 1989 Batman motion picture, 75th anniversary of Batman's comic book debut, and, on February 8, the 100th birthday of Milton "Bill" Finger, the Dark Knight's uncredited co-creator. For this year's Batman anniversaries, the Comics Arts Council is bringing together filmmakers, comic professionals, fans, and heirs to create a crowdfunded tribute film, THE CAPE CREATOR: A TRIBUTE TO BILL FINGER, THE UNBILLED CO-CREATOR OF BATMAN.
Kickstarter link: https://www.kickstarter.com/projects/comicartscouncil/the-cape-creator-a-tribute-to-bat-maker-bill-finge
"Now that my long-time friend and collaborator is gone, I must admit that Bill never received the fame and recognition he deserved. He was an unsung hero." – Bob Kane, Batman's official creator, from his autobiography.
Before Bob Kane signed his first contract to publish the adventures of Batman back in 1939, a contract that has credited Kane as the Caped Crusader's sole creator, he collaborated with a writer named Bill Finger, a man whose name should be world famous but is not. Bill gave Batman's costume its dark colors, its scalloped cape, and bat-like cowl. He named Bruce Wayne, named Gotham City, created Commissioner Gordon, wanted Batman to have a partner, came up with one fantastic villain after another, and gave Batman a car that would go on to become one of the most famous autos of all time. Bill wrote the first Batman story. He wrote the tragic origin. Under his own name, he wrote the very first Green Lantern story and co-created Wildcat. He went on to write hundreds of stories, but throughout his decades spent working on Batman, the world knew only Bob Kane.
Forty years have passed since Bill died suddenly relatively unknown, a few weeks short of his 60th birthday. Only two photos of him were publicly known to exist and, once his son Fred died, no living descendants. While doing research for his book BILL THE BOY WONDER: THE SECRET CO-CREATOR OF BATMAN, author Marc Tyler Nobleman found a few more photos and two living descendants: Bill's granddaughter Athena and her son Ben. Born two years after Bill died and age 15 when she lost her father, Athena knew little about Bill Finger but welcomes the opportunity to find out.
"It's time to make this right," Dr. Travis Langley, author of the book BATMAN AND PSYCHOLOGY: A DARK AND STORMY KNIGHT, says in the Kickstarter campaign video. "If you love Batman, if you love comic books, if you love the movies and stories, or if you just love the truth, help us tell the world. Help us celebrate the life and accomplishments of Bill Finger." Langley, Nobleman, the Comic Arts Council, and the Finger family are uniting with important interviewers, interviewees, and co-conspirators to create a short film in tribute to Bill Finger, possibly even a longer documentary depending on the success of their current Kickstarter campaign.
Participants include:
·  Athena Finger(@AthenaFinger) – Bill Finger's only grandchild.
·  Benjamin – Athena's son, Bill Finger's only other living descendant.
·  Dennis O'Neil – legendary writer and editor who probably worked on more Batman stories than anybody other than Bill himself.
·  Michael Uslan – executive producer of the films BATMAN, THE DARK KNIGHT trilogy, and currently THE LEGO MOVIE (which has Lego Batman in it, you know).
·  Jens Robinson – son of Bob Kane's first Batman ghost artist, the Joker's co-creator Jerry Robinson (who founded the Bill Finger Award to honor comic book creators who deserve greater recognition).
·  Several Golden Age and Silver Age artists and other comic book pros who worked with Bill. (There aren't many left.)
·  Jamie Walton(@JamieWalton) – co-founder, with Kevin Smith (CLERKS, BATMAN: CACOPHONY), of the Wayne Foundation non-profit.
·  Rabbi Cary Friedman – author of WISDOM FROM THE BATCAVE: HOW TO LIVE A SUPER, HEROIC LIFE.
·  Arlen Schumer – scholar and author of an ALTER EGO article scrutinizing Batman's behind-the-scenes origin.
·  Alan Kistler (@SizzlerKistler) – comics journalist, author of THE UNOFFICIAL BATMAN TRIVIA CHALLENGE and DOCTOR WHO: A HISTORY.
·  Marc Tyler Nobleman(@MarcTNobleman) – author of BILL THE BOY WONDER: THE SECRET CO-CREATOR OF BATMAN, who led the Finger Google doodlecampaign.
·  Dr. Travis Langley (@Superherologist) – author of  BATMAN AND PSYCHOLOGY: A DARK AND STORMY KNIGHT and friend of Matty P Presents: Saturday Morning Cereal.
·  Plus several big surprises we can't name yet.
For more information, contact the filmmakers through the Kickstarter campaign or message Dr. Langley (@Superherologist) through Twitter or Facebook.
"I never thought of giving him a by-line and he never asked for one. I often tell my wife, if I could go back fifteen years, before he died, I would like to say, 'I'll put your name on it now. You deserve it.'" – Bob Kane, also from his autobiography.
http://www.youtube.com/watch?v=1BZXHgTzlfU&feature=youtu.be