JUSTICE LEAGUE x RWBY:
SUPER HEROES & HUNTSMEN, PART ONE
ROOSTER TEETH ANIMATION, DC & WARNER BROS. ANIMATION COMBINE FORCES – AND CHARACTERS – IN A NEW DC ANIMATED MOVIE
PURCHASE DIGITALLY AND 4K ULTRA HDTM & BLU-RAYTM DISC ON APRIL 25
#JLxRWBY
BURBANK, CA (February 9, 2023) – The heroes of DC's Justice League and Rooster Teeth Animation's RWBY join forces to battle an evil entity attacking Remnant in Justice League x RWBY: Super Heroes & Huntsmen, Part One, available to purchase Digitally and on 4K Ultra HD Blu-ray Combo Pack and Blu-ray on April 25, 2023. The all-new, feature-length DC Animated Movie finds Superman, Batman, Wonder Woman, Flash, Cyborg, Green Lantern and Vixen in new iterations – transformed into teenagers while in transport to RWBY's world, and presented in Rooster Teeth's anime-influenced animation – and partnering with the heroes of Remnant (Ruby, Weiss, Blake and Yang) to battle a mysterious, superpowered creature before it destroys everything they know.
The voice cast features a trio of first-time actors in DC's Trinity roles – Natalie Alyn Lind (Big Sky, The Goldbergs, Gotham) as Wonder Woman/Diana Prince, Chandler Riggs (The Walking Dead, A Million Little Things) as Superman/Clark Kent and Nat Wolff (The Fault in Our Stars, The Stand) as Batman/Bruce Wayne – alongside RWBY's long-running cast: Lindsay Jones (Camp Camp) as Ruby, Kara Eberle (RWBY: Ice Queendom) as Weiss, Arryn Zech (The Detective is Already Dead) as Blake, and Barbara Dunkelman (Blood Fest) as Yang.
Also featured in the cast is Ozioma Akagha (Teen Titans Go!) as Vixen, Jen Brown (Red vs. Blue) as Pyrrha, Tiana Camacho (JoJo's Bizarre Adventure) as Glynda, Aaron Dismuke (Fullmetal Alchemist) as Oscar, Jason Douglas (The Walking Dead) as Jacques, David Errigo Jr. (Ridley Jones) as The Flash/Barry Allen and Rolf, Samantha Ireland (Red vs. Blue) as Nora, Miles Luna (Camp Camp) as Jaune, Shannon McCormick (Get Backers, Day 5) as Professor Ozpin, Neath Oum (RWBY: Chibi) as Lie Ren, Tara Platt (Aggretsuko, Naruto: Shippuden) as Kali, Jeannie Tirado (Soul, Saints Row) as Green Lantern, and Tru Valentino (The Rookie, The Cuphead Show!) as Cyborg.
Justice League x RWBY: Super Heroes & Huntsmen, Part One is produced and directed by by Kerry Shawcross (RWBY franchise) and written by screenwriter Meghan Fitzmartin (Supernatural, Justice Society: World War II). Producers are Ethan Spaulding (Mortal Kombat Legends: Scorpion's Revenge), Jim Krieg (Batman: Gotham by Gaslight) and Kimberly S. Moreau (Legion of Super-Heroes). Laura Yates (Boyhood, RWBY, Red vs. Blue) is Supervising Producer. Executive Producer is Michael Uslan. Sam Register is Executive Producer.
The first western-produced anime series to be dubbed and distributed in Japan, RWBY was created in 2013 by the late Monty Oum (Red vs. Blue) as an animated web series. Now one of Rooster Teeth's most beloved, viewed, and shared franchises, the 9th volume of the series premiered earlier this month exclusively on Crunchyroll alongside all previous volumes. In 2022, the show saw unprecedented momentum with releasing the new Japanese anime series RWBY: Ice Queendom from Bandai Namco Filmworks and Studio Shaft and the new video game RWBY: Arrowfell from WayForward. RWBY episodes have averaged more than 7 million views, and the franchise has accumulated over 271 million views since its inception. RWBY has a fervent fanbase in North America, the United Kingdom, Australia and Japan. RWBY has expanded over the last few years to include a new manga from Shonen Jump, young adult novel treatment from Scholastic, and crossover comics with the Justice League from DC.
Justice League x RWBY: Super Heroes & Huntsmen, Part One will be available on April 25 to purchase Digitally from Amazon Prime Video, AppleTV, Google Play, Vudu and more. 4K Ultra HD and Blu-Ray Discs will be available to purchase online and in-store at major retailers.
SYNOPSIS:
Justice League x RWBY: Super Heroes & Huntsmen, Part One finds the Justice League facing off against a new horror: adolescence! Superman, Batman, Wonder Woman, Flash, Cyborg, Green Lantern and Vixen are surprised to find that not only have they materialized on a strange world called Remnant, but they've also been transformed into teenagers. Meanwhile, the heroes of Remnant – Ruby, Weiss, Blake and Yang – find their world has been mysteriously altered. Can the combined forces of the Justice League and Team RWBY return Remnant to normal before a superpowered Grimm destroys everything they know?
SPECIAL FEATURES INCLUDE:
Justice Comes to Remnant (New Featurette) – When the Justice League find themselves on Remnant, they'll have to deal with more than just their powers being altered. In this featurette, the filmmakers behind the film explore the world of Remnant, the Huntsmen that fight for it and how Earth's mightiest heroes are forced to adapt.
You Look … Different (New Featurette) – Remnant, the world of RWBY, isn't like Earth. The people are different. The powers are different. And the Justice League? Their entire appearance is different too. In this featurette, the creators of the film reveal the story behind the new look they've given to some old friends.
From the DC Vault – Justice League Unlimited – "Kid Stuff" 
From the DC Vault – Justice League Action – "Plastic Man Saves the World"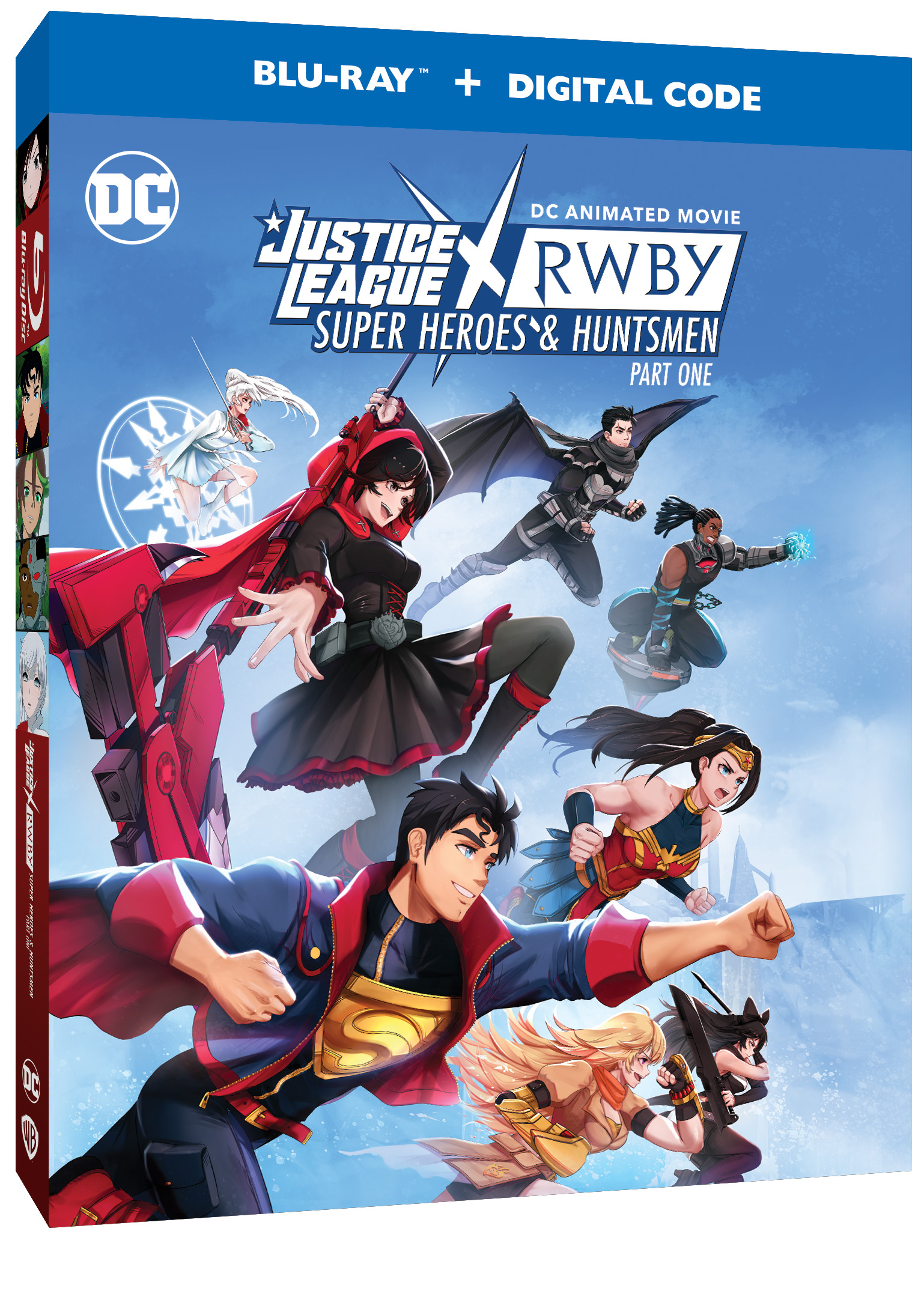 Pricing and film information:
PRODUCT                                                                             SRP
Digital purchase                                                                      $19.99
4K Ultra HD Blu-ray Combo Pack + Digital Version*            $39.99 USA
4K Ultra HD Blu-ray Combo Pack                                         $44.98 Canada
Blu-ray + Digital Version*                                                      $29.98 USA
Blu-ray                                                                                   $39.99 Canada
4K/Blu-ray Languages: English, Spanish
Blu-ray Subtitles: English, Spanish, French
Running Time: 83 minutes
Rated PG for action/violence throughout and brief language
*Digital version not available in Canada
About Rooster Teeth
Rooster Teeth is a fan-driven, community built entertainment company. From humble origins in a spare bedroom, Rooster Teeth created the web series Red vs. Blue, an innovative form of entertainment for a changing media landscape that sparked the growth of a passionate global fandom. From that foundation, Rooster Teeth pioneered a direct-to-consumer lifestyle brand for its growing online following with subscriptions, advertising, e-commerce, and live events. Rooster Teeth produces several original content series including RWBY, the most popular western-style anime series today, The Rooster Teeth Podcast, and daily video series featuring an in-house cast of influential talent. With broadcast and live-action production capabilities and a world class animation studio, Rooster Teeth engages top networks, streaming entertainment services and creative talent to develop projects that reach global audiences through its Studios division. Rooster Teeth cultivates the gaming lifestyle it helped define with partnerships through its industry-leading video-first podcast network, The Roost. Rooster Teeth has a massive global footprint of more than 45 million subscribers to its YouTube Network, 5 million unique weekly viewers across its RoosterTeeth.com hub and more than 4 million registered community members. The company was founded in 2003, and is a subsidiary of Otter Media, a WarnerMedia company. Discover more at RoosterTeeth.com.
About DC
DC, part of Warner Bros. Discovery, creates iconic characters and enduring stories and is one of the world's largest publishers of comics and graphic novels. DC's creative work entertains audiences of every generation around the world with DC's stories and characters integrated across Warner Bros. Discovery's film, television, animation, consumer products, home entertainment, games, and themed experiences divisions, and on the DC Universe Infinite digital comic subscription service. Learn more at DC.com
About Warner Bros. Animation
Warner Bros. Animation (WBA) is one of the leading producers of animation in the entertainment industry, producing and developing projects for multiple platforms, both domestically and internationally. WBA's current series include Animaniacs for Hulu, Batwheels, Creature Commandos, Bugs Bunny Builders, Gremlins: Secrets of the Mogwai, Harley Quinn, Jellystone!, Looney Tunes Cartoons, My Adventures with Superman, Noonan's, Tiny Toons Looniversity, and Velma  for HBO Max, Teen Titans Go! for Cartoon Network. The studio is currently in production with New Line Cinema on the upcoming original anime feature film, The Lord of the Rings: The War of the Rohirrim.  WBA's full-length theatrical film, Teen Titans GO! to the Movies, was released in summer 2018. As home to the iconic animated characters from the DC, Hanna-Barbera, MGM and Looney Tunes libraries, WBA also produces highly successful animated films — including the DC Universe Movies — for DVD, Blu-ray® and digital media. One of the most-honored animation studios in history, WBA has won six Academy Awards®, 40 Emmy® Awards, the George Foster Peabody Award, a BAFTA Children's Award, an Environmental Media Award, a Parents' Choice Award, the HUMANITAS Prize, two Prism Awards and 21 Annie Awards (honoring excellence in animation).
About Warner Bros. Discovery Home Entertainment
Warner Bros. Discovery Home Entertainment (WBDHE) distributes the award-winning movies, television, animation, and digital content produced by Warner Bros. Discovery to the homes and screens of millions through physical Blu-ray Disc™ and DVD retail sales and digital transactions on major streaming, video-on-demand cable, satellite, digital, and mobile channels.  WBDHE is part of Warner Bros. Discovery Content Sales, one of the world's largest distributors of entertainment programming.
© Warner Bros. Entertainment Inc. JUSTICE LEAGUE and all related characters and elements are © & ™ DC. RWBY and all related characters and elements are ™ & © Rooster Teeth Animation.