COMIC-CON PANELISTS DISCUSS HOW MORE ACCURATE MENTAL HEALTH DEPICTIONS CAN BENEFIT PATIENTS AND PUBLISHERS ALIKE
Esteemed panelists include critically acclaimed, #1 New York Times Bestselling writer Gail Simone in her only Comic-Con International: San Diego appearance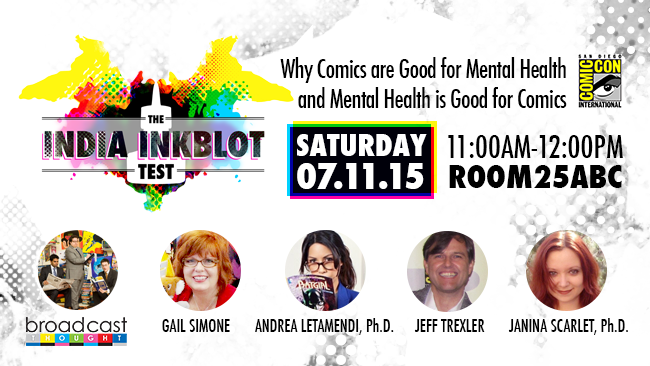 Los Angeles, CA, June 2015 – The psychiatrists of Broadcast Thought, H. Eric Bender, M.D., Praveen R. Kambam, M.D., and Vasilis K. Pozios, M.D., return to Comic-Con International: San Diego for another must-see panel.
On Saturday, July 11, 2015, from 11:00 am to 12:00 pm in Room 25ABC, they will join Gail Simone (writer of DC Comics' Secret Six and Dynamite Entertainment's Red Sonja) and present
 "The India Inkblot Test: Why Comics are Good for Mental Health and Mental Health is Good for Comics."
As public awareness of mental health issues increases and the stigma associated with mental disorders and their treatment recedes, will mental health advocacy in comic books become more widely embraced? Just as efforts to better represent women in comics have paid off in terms of new readers, can more accurate portrayals of mental disorders unlock a new demographic? Forensic psychiatrists H. Eric Bender, M.D., and Praveen R. Kambam, M.D., (Broadcast Thought) will discuss why accurate mental health depictions matter and how less stigmatizing — and more creative — representations can benefit patients and publishers alike.
Gail Simone (Batgirl, Red Sonja) will talk about her efforts to accurately represent people with mental disorders and her consultation with clinical psychologist Andrea Letamendi, Ph.D., (Under the Mask, The Arkham Sessions) on the depiction of Posttraumatic Stress Disorder and its treatment in DC Comics' Batgirl. Clinical psychologist Janina Scarlet, Ph.D., (Superhero Therapy) will share moving stories of patients inspired by accurate comic book depictions of mental disorders in their recovery from mental illnesses.
Forensic psychiatrist Vasilis K. Pozios, M.D., (Broadcast Thought) will discuss his short story about a stigmatized super hero with Bipolar Disorder, Aura, published in RISE: Comics Against Bullying from Northwest Press. Attorney Jeff Trexler (The Beat, The Comics Journal) will moderate, contextualizing the changing landscape of mental health depictions in comics with the complicated history between comic books and mental health.
About Broadcast Thought: 
Broadcast Thought is a creative collective of three psychiatric physicians, H. Eric Bender, M.D., Praveen R. Kambam, M.D., and Vasilis K. Pozios, M.D., whose goals include shifting the paradigm of how the media and entertainment industries portray mental health issues. The doctors serve as creative consultants and subject matter experts to the media and entertainment industries and co-create mental health-related content. They are freelance contributors to The New York Times, Wired, and The Walking Dead: The Official Magazine, and they have been featured in Time, The Huffington Post, ABC News, Entertainment Weekly, and Discover.
About Gail Simone:
Gail Simone is a critically acclaimed, #1 NYT Bestselling writer of comics and animation, including fan-favorite runs on Batgirl, Simpsons, Deadpool, Secret Six, Birds of Prey, and more. She is an outspoken proponent for diversity in comics, and was the first-ever winner of the Stan Lee True Believer Award in the Roll of Honour category. She currently travels the world sharing her love of comics with new audiences everywhere.
About Andrea Letamendi:
Andrea M. Letamendi, Ph.D., is a psychologist, public speaker, and consultant. Her areas of mental health expertise include trauma recovery and resiliency, multicultural diversity, and interventions for bullying. Additionally, Dr. Letamendi provides consultation and lectures on the psychological science found in comics, sci-fi and fantasy. Appearances include Dr. Drew on Call on CNN Headline News, the DC Comics documentary, Necessary Evil: Super-Villains of DC Comics, and TED Talks. She is the co-host of The Arkham Sessions, a weekly podcast dedicated to the psychological analysis of Batman: The Animated Series. Her childhood dream came true when she was written as Batgirl's psychologist in a DC Comic book!
About Janina Scarlet:
Janina Scarlet, Ph.D., is a Licensed Clinical Psychologist, a scientist, and a full time geek. She uses Superhero Therapy to help patients with anxiety, depression, chronic pain, and PTSD at the Center for Stress and Anxiety Management and Sharp Memorial Hospital. Dr. Scarlet also teaches at Alliant International University, San Diego. Her book, Superhero Therapy, has an expected release date of July 2016 with Little, Brown Book Group.
About Jeff Trexler:
Jeff Trexler (JD, Yale; PhD, Duke) writes on comics and the law for The Beat and TCJ.com. As an attorney and Associate Director of the Fashion Law Institute at Fordham Law School, Jeff has worked with clients from around the world on issues ranging from tax exemption and corporate finance to intellectual property and ethics. He previously served as a chaired professor and executive director of the Wilson Center for Social Entrepreneurship at Pace University, and he has also taught at Saint Louis University, Southern Methodist University and Yale Law School.
"The India Inkblot Test: Why Comics are Good for Mental Health and Mental Health is Good for Comics" takes place on Saturday, July 11, 2015, from 11:00 am to 12:00 pm in Room 25ABC, at the San Diego Convention Center, San Diego, California.