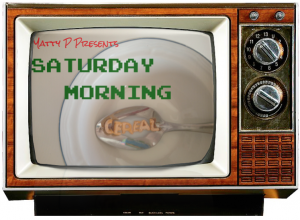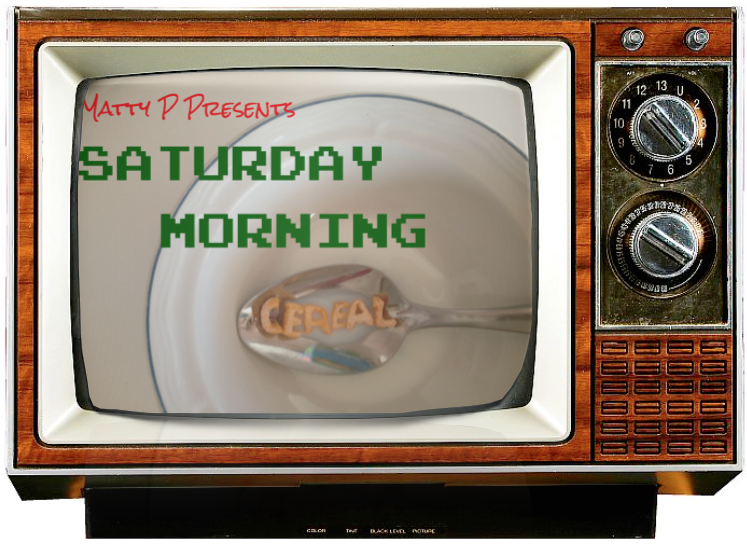 Matty P Presents: Saturday Morning Cereal
Premiered
SATURDAY Morning
June 21, 2014 At 8am PDT
&
NOW Available
OnDemand!

Take some time this week to remember your original happy hour: Saturday mornings as a kid, waking up at dawn, jumping on the couch with a bowl of chocolate cereal, turning on the 'toons, tuning out the outside world, and working your way into a sugar hangover before noon. This week we celebrate the return of TNT and Steven Spielberg's hit show Falling Skies, this Sunday night June 22. Marke. walks us through what we may have missed and what we can expect with WonderCon round table interviews from many of the show's stars, including Doug Jones (Hellboy, Pan's Labyrinth), Sarah Carter (Final Destination 2, Smallville), Moon Bloodgood (Terminator Salvation, Eight Below), Seychelle Gabriel (The Last Airbender, The Spirit), and an exclusive interview with Connor Jessup. Heads up, Chicken Little.
Hosted by
Grim Shea and Marke.
@StayClassySDCC
This Week We Talk
Falling Skies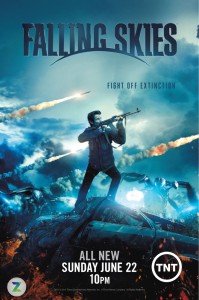 Including
Our Exclusive Interview with
Falling Skies' "Ben Mason"
Connor Jessup
&

Roundtable Interviews
with
The Volm alien collaborator "Cochise" 
Doug Jones
The Man Behind the Mask
Falling Skies rebel rouser "Maggie"
Sarah Sanguin Carter
2nd Mass Medics
Moon Bloodgood & Seychelle Gabriel
Moon Bloodgood as 2nd Mass medic
"Anne Glass"
Seychelle Gabriel as assistant medic 
"Lourdes Delgado"
Thank you to TNT Falling Skies for this amazing access!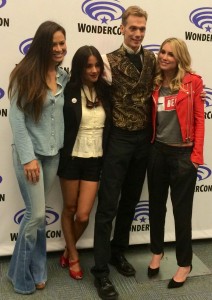 Catch the Falling Skies Season Premier June 22 on TNT BOOM!
or
Catch it NOW on the TNT app for iPhone & Droid
For Falling Skies Videos, Full Episodes, Characters & Cast News, and Episode Guide Visit
FALLING SKIES opens in the chaotic aftermath of an alien attack that has left most of the world completely incapacitated. In the months since the initial invasion, the few survivors have banded together outside major cities to begin the difficult task of fighting back. Each day is a test of survival as citizen soldiers work to protect the people in their care while also engaging in an insurgency against the occupying alien force.
At the center of the series is Tom Mason (Noah Wyle), a Boston history professor whose family was torn apart. Tom must put his extensive knowledge of military history to the test as one of the leaders of the Boston-born resistance movement known as the 2nd Mass. Tom will do anything for his sons, including Ben, who was recently rescued from alien control, but is still extremely vulnerable. The last we see Tom, he is stepping onboard an alien craft, surrendering himself in attempt to save his son.
Moon Bloodgood (Terminator Salvation) co-stars as Anne Glass, a pediatrician who becomes the primary medic of the 2nd Mass. Will Patton (Armageddon, TNT's Into the West) plays a fierce leader of the resistance, Captain Weaver. The series also stars Drew Roy (Secretariat) as Hal, Tom's oldest son and a growing fighter in the resistance movement; Maxim Knight (Brothers & Sisters) as Matt, Tom's youngest son; Connor Jessup (The Saddle Club) as Ben, Tom's recently rescued son; and Seychelle Gabriel (Weeds) as Lourdes, a former med student and Dr. Glass' only support. Colin Cunningham (Living in Your Car) is John Pope, a rebel who will stop at nothing to kill the aliens and Sarah Carter (Shark) is Margaret, a wary survivor of Pope's gang.
FALLING SKIES focuses on the resilience of the survivors and their determination to maintain their humanity when all else has been destroyed. It is a tale of endurance, commitment and courage in which everyday people are called upon to become heroes. They may be outmatched, outnumbered and outgunned, but nothing can beat the human spirit. Most of all, the series is about the ties that bind people together in the most difficult of circumstances.
The aliens in the series are mighty, mysterious and merciless. They are highly intelligent and use military-like tactics, which makes them an overwhelming force against the 2nd Mass. There are three types of alien threat that the human survivors have named Skitters, Mechs and Overlords. The spider-like Skitters are simultaneously vicious killers and a nurturing family for the captured children. The deadly, robotic Mechs are controlled by the Skitters and pose the biggest risk on the ground, as their advanced weaponry and armor can take out many fighters without taking a dent. The Overlords are still a great mystery, but appear to be the real ones in charge of this invasion. The aliens control captured children, like Tom's son Ben, through bio-mechanical harnesses but have yet to reveal their ultimate plan for them.
FALLING SKIES is executive-produced by Steven Spielberg, along with DreamWorks Television heads Justin Falvey and Darryl Frank, Remi Aubuchon and screenwriter Robert Rodat. Rodat, who earned an Oscar® nomination for his screenplay for Saving Private Ryan, wrote the pilot from an idea he co-conceived with Spielberg. Mark Verheiden (Heroes, Battlestar Galactica) serves as a consulting producer and Greg Beeman (Heroes, Smallville) serves co-executive producer. The pilot was directed by Carl Franklin (One False Move, Out of Time).
https://www.youtube.com/watch?v=3kIg9JdOitg
https://www.youtube.com/watch?v=yFxN6IQTULo