Matty P Radio has been looking forward to this!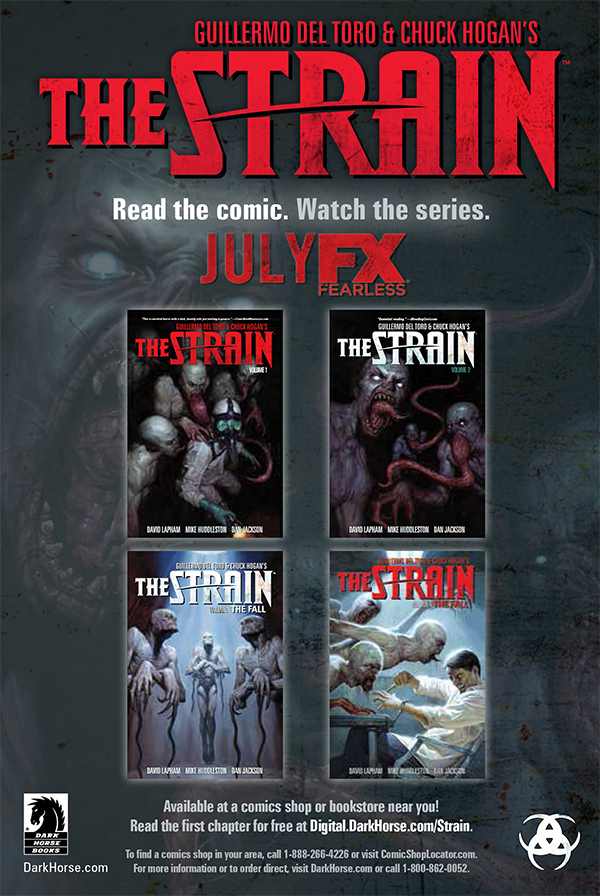 LOS ANGELES, February 2014 –
The Strain is a high concept thriller that tells the story of Dr. Ephraim Goodweather (Corey Stoll), the head of the Center for Disease Control Canary Team in New York City. He and his team are called upon to investigate a mysterious viral outbreak with hallmarks of an ancient and evil strain of vampirism. As the strain spreads, Eph, his team, and an assembly of everyday New Yorkers, wage war for the fate of humanity itself.
The ensemble cast of The Strain stars Corey Stoll, Mia Maestro, Sean Astin, Kevin Durand, Natalie Brown, Jonathan Hyde, Richard Sammel, Robert Maillet, Jack Kesy, Ben Hyland, Miguel Gomez and David Bradley. Writer, producer, director and novelist Guillermo del Toro has built his career on bringing fantasy and horror to vivid life. He wrote and directed the dark fairy tale Pan's Labyrinth, which garnered six Academy Award nominations, including one for del Toro for Best Writing, Original Screenplay. The film went on to win three Oscars. Named by The Hollywood Reporter as a "Master of Horror," del Toro's other film credits include Pacific Rim, Hellboy and the upcoming Crimson Peak starring Tom Hiddleston, Charlie Hunnam and Jessica Chastain.
Stay Tuned to Matty P Radio for special programming about this sure to be great project!
http://www.youtube.com/watch?v=bvnsZcq3Nto