By Rita Farbulous,                                                                                                    S.3E.17
NEWS FROM OUR SHOW THAT AIRED AUGUST  8,2013
Miss the Show? LISTEN HERE
MattyP was absent for this week's show, so MarkE, GrimShea and Rico took over hosting for the night.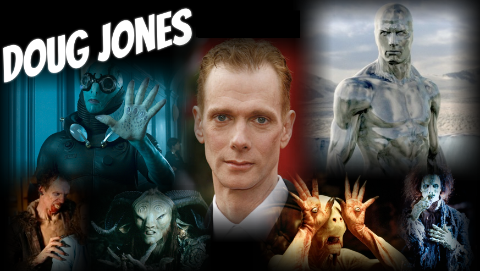 Their first guest was actor DOUG JONES.  Doug is the star of "Hellboy", "Pan's Labyrinth" and you've most recently seen him playing "Cochise" on TNT's sci-fi series "Falling Skies".   You may also recognize the 6'3 ½" 140 pound actor as the Silver Surfer from "The Fantastic Four" movies.  Doug has well over 100 credits on his imdb profile, notably more than actors such as Jack Nicholson.  But can he buy a boat with all of those imdb credits? 
Previously the guys interviewed his "Falling Skies" co-star Connor Jessup, and Connor wanted MarkE to relay the question to Doug, "Can I cup"? 
Doug took the time to discuss his relationship with director Guillermo Del Toro.  When asked what would happen should you get a call from Mr. Del Toro tomorrow, "I would take a dump on the pavement for Guillermo if he was filming it, it would turn into something gorgeous", replied Doug. 
Doug let the listeners know about sharing a make-up trailer with "Hellboy" co-star Ron Perlman, and also was questioned about the possibility of making "Hellboy 3".  He stated, "We want to do it, but it would need $200 million and a studio to back it".
The most informative part of the interview came when Doug disclosed that he was the crescent moon faced character known as Mac the Night from the old McDonald's commercials.  He said that character was his first introduction to being made into a toy.  He believes he has received at least one free toy figure of every character that he has dressed up as.  No word on who was in the Grimace costume.
Doug shared his enthusiasm for his upcoming projects "Monster School" and "Space Command".  He also wanted his fans to check him out on his web series, so go to www.Reserarch Series.com
Doug admitted that he's somewhat of a contortionist and is skilled with being able to put his legs behind his head.  What can he do with that skill? You will have to listen to hear what he says.
Playback the interview to find out what he had to say about his character named Dominique Wilkins on the sitcom "The Neighbors" and what's in store for the upcoming 4th season of "Falling Skies".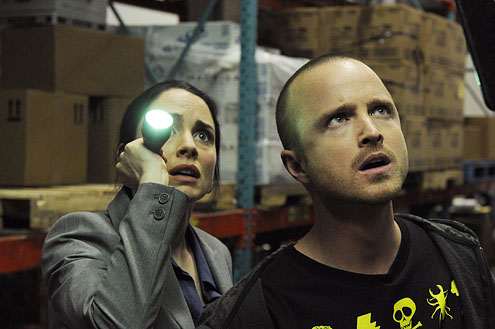 LAURA FRASER is a Scottish actress currently playing "Lydia" on the hugely popular show "Breaking Bad".  She called in from across the pond to speak with the guys about Breaking Bad and her other series "Lip Service".  She said she moved to the U.S. two years ago and felt so lucky to have gotten the part as Lydia on Breaking Bad, "its like I'm gate crashing an amazing party and I enjoy being along for the ride".  She stated that the writers are astonishing. 
"Breaking Bad" films and takes place in Albuquerque, New Mexico.  In Laura's opinion she relates it to being in Australia because of the vast skies and amazing sunsets.  Those are things she apparently doesn't get to see in the U.K.  MarkE and GrimShea asked her about filming in Albuquerque and quizzed her on the city's culture.  Laura responds that she prefers her chilies green and her margarita's salted.
Laura does confirm that she has filmed for the fourth and final season.   "Everybody has a Walter White in them somewhere" she mentions, but listen to the radio show to hear her describe working with Brian Cranston.
In regards to her series "Lip Service", she stated that she's proud to be a part of a strong female ensemble.  What lesbian show did the cast watch while filming "Lip Service" and what are Laura's thoughts on cholos?  Play back the interview to find out.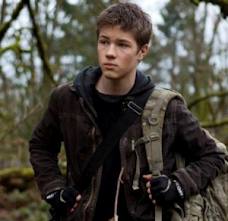 CONNOR JESSUP plays Ben Mason on TNT's hit sci-fi show "Falling Skies".
Connor also calls in internationally, from Tokyo to be exact.  The rising star mentions that when not filming he enjoys traveling and for the past few months he has been staying in Japan.  Connor shares that he is helping out on his friend's rice paddy.  This is a first for the MattyP radio show. 
The non hockey playing Canadian reveals that "Falling Skies" does film in Vancouver, so he doesn't end up traveling to the States.  Connor started working on "Falling Skies" when he was fifteen years old.  The show at the pilot stage didn't even have an official name as it was called "Untitled Steven Spielberg Alien Invasion Project".  Being a Spielberg fan and having his name attached to the show is what gave Connor the initial draw to the project.
His "Falling Skies" costar Doug Jones is brought up and Connor describes him as his favorite person in this world.  He calls him flamboyant in a friendly way, but not in a gay way.  And this is where the question of "Can I cup?" comes up.
Connor discussed how a self proclaimed un-athletic kid has now become an alien hybrid bad-ass. Connor recalls a conversation with a producer where he's informed that by season 2 he was to become an action star.  Now that we know that season 4 is picked up, what can he share?  What are his thoughts on Ben Mason having a romantic story line?  Are there any flings off set with any of his attractive costars (Seychelle Gabriel, Sarah Carter, and Mark.E's crush Jessy Schram)?   Play back the interview to find out the answers to these interesting questions… and ultimately does Connor allow Doug to "cup"?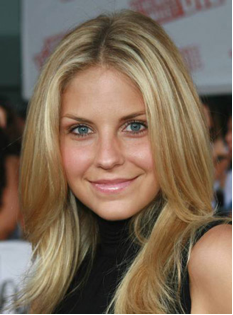 NIKKI GRIFFIN joined the radio show for the third interview of the night.  Nikki is a beautiful actress who is currently a contributing writer for Geek Magazine.  She has most recently starred on an episode in the second season of "Femme Fatale", and you may remember her playing the drug dealer Jess Saters on the Fox hit "The O.C.".
Starting the interview, Nikki named dropped that she's friends with the director of the phenomenon known as "Sharknado". Will she be able to get MattyP a walk on part though?
Nikki told the guys that in real life, she is nothing like the characters she's played on TV.  She said that opposed to her "Femme Fatale" character, she doesn't believe in revenge. "I think success is the best form of revenge", she declared.  While filming for the show, her character was required to slap co-star Ashley Hamilton across the face.  She didn't call his ex-wife Shannen Doherty for advice, but did disclose that it was the first time she had to slap anyone.
Nikki described herself as a gamer and a comic book reader, and now she writes for Geek Magazine.  What does she have to say about geeks as lovers?
Nikki admitted to being a dork in high school even donning a mullet!  But she's been quite the sex symbol on the big screen showing some nudity in the film "The Dukes of Hazard".  She disclosed that when she was younger she lived in Germany for six years and adopted the European lifestyle of being comfortable with showing her body. "Why be ashamed, show it" she proclaimed. 
She dated co-star Sean William Scott, but was there truth to the Johnny Knoxville rumors?  What was her relationship like with co-star Jessica Simpson?  You'll have to playback the radio show to find out what she had to say about the billionaire blonde.
Listen to the interview to find out what was the craziest thing the actress has done in a penthouse, but don't forget to look for her writing in Geek Magazine.