Friends of the show!
BMI AND WHITE BEAR PR PRESENT
"BEHIND THE SCORE OF LOVECRAFT COUNTRY"
AT COMIC-CON 2021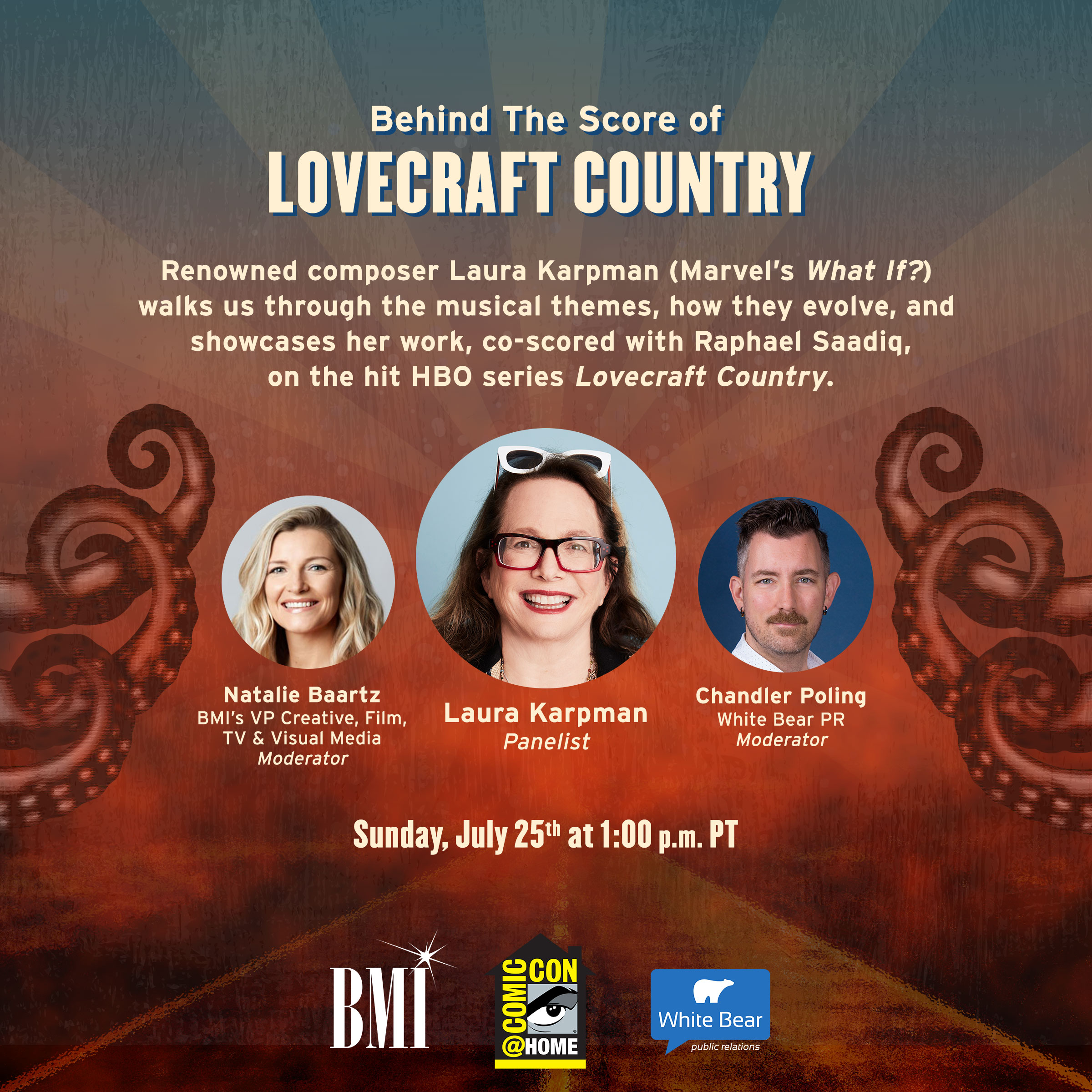 Acclaimed Composer Laura Karpman Dives Into The Making of The Score For Lovecraft Country
on Sunday, July 25
th
WHO:
BMI (Broadcast Music Inc.)
and White Bear PR
are thrilled to
present "Behind The Score of Lovecraft Country," at this year's [email protected] festival. The virtual discussion will feature Emmy award-winning composer Laura Karpman. Some of her notable credits include the hit HBO series Lovecraft Country, Marvel's What If, Kasi Lemmons' Black Nativity, Eleanor Coppola's Paris Can Wait, and Spielberg's miniseries Taken, among others. The panel will be moderated by BMI's VP, Creative, Film, TV & Visual Media Natalie Baartz and White Bear PR's Chandler Poling.
WHAT:
Multiple award-winning composer Laura Karpman will take us "Behind The Score of Lovecraft Country," and dive into her musical contributions to the hit HBO series. During the panel, Karpman will discuss the series' musical themes and how they evolve throughout the season. Viewers will also watch Karpman showcase some of the scores that are featured in Lovecraft Country and get an exclusive insight on her creative process.
Click here to add to your Google calendar 
WHEN: 
Sunday, July 25, 2021
TIME:
1:00 p.m. – 2:00 p.m. PT
LEARN MORE ABOUT THE PANELIST:
Laura Karpman is a five-time Emmy award-winning composer whose musical career spans from film, television and videogame to concert and theater music. Her distinguished credits include the hit HBO series Lovecraft Country, Marvel's What If, Kasi Lemmons' Black Nativity, Eleanor Coppola's upcoming film Paris Can Wait, Spielberg's miniseries Taken and the Showtime series Odyssey 5, to name just a few. She has received multiple GANG awards (Game Audio Network Guild), and her videogame music has been performed by orchestras internationally. Notably, Karpman was commissioned by Carnegie Hall and collaborated with soprano Jessye Norman and The Roots on Ask Your Mama, a multimedia opera based on the iconic cycle of poems by Langston Hughes, which received a sold-out premiere at Carnegie Hall, a sold-out west coast premiere at The Hollywood Bowl, three GRAMMY nominations, and one GRAMMY Award win. The prolific composer is also the founding President of the Alliance for Women Film Composers, has served as an advisor for the Sundance Film Scoring Lab and is the first American woman composer accepted to the Music Branch Executive Committee of the Academy of Television Arts and Sciences. 
Celebrating over 80 years of service to songwriters, composers, music publishers and businesses, Broadcast Music, Inc.® (BMI®) is a global leader in music rights management, serving as an advocate for the value of music. BMI represents the public performance rights in over 17 million musical works created and owned by more than 1.1 million songwriters, composers, and music publishers. The Company negotiates music license agreements and distributes the fees it generates as royalties to its affiliated writers and publishers when their songs are performed in public. In 1939, BMI created a groundbreaking open-door policy becoming the only performing rights organization to welcome and represent the creators of blues, jazz, country, and American roots music. Today, the musical compositions in BMI's repertoire, from chart toppers to perennial favorites, span all genres of music and are consistently among the most-performed hits of the year. For additional information and the latest BMI news, visit
bmi.com
, follow us on
Twitter
and
Instagram
@BMI or stay connected through Broadcast Music, Inc.'s
Facebook
page. Sign up for BMI's
The Weekly™ and receive our e-newsletter every week to stay up to date on all things music.

ABOUT WHITE BEAR PR:
White Bear Public Relations specializes in PR for composers, music supervisors, and film & music festivals around the world. The company is built on relationships and creativity, thrives on innovation, and gets results. Since its inception, White Bear PR has produced award-winning campaigns, represented clients at all major film festivals, and created popular composer-focused panels at Comic-Con and WonderCon. More at whitebearpr.com
or follow us on Twitter @whitebearpr.