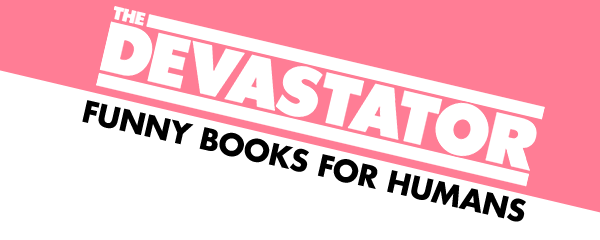 The Devastator Has Spawned
APOCALYPSE + New Imprint!
THE END IS NIGH-LARIOUS!
Despite the end of the print world as we know it, cult humor anthology series The Devastator continues with its most action-packed, star-studded effort yet.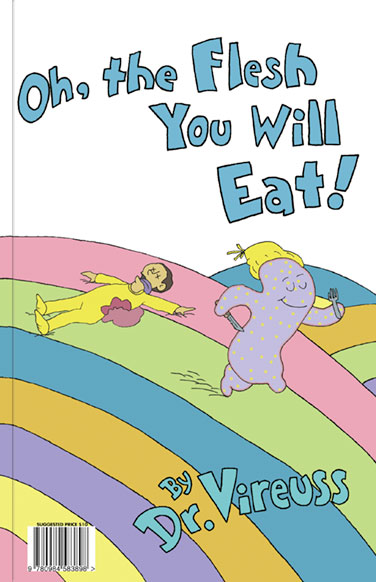 The Devastator: Apocalypse features Paul Scheer (The League, NTSF: SD: SUV::), Joe Lo Truglio (The State, Brooklyn Nine-Nine), Jordan Morris (Maximum Fun, @Midnight), Todd Alcott (Antz, Bizarro World), Danny Hellman (Fantagraphics, Wall Street Journal), with an amazing cover by award-winning artist Michael DeForge (Adventure Time, LOSE).
The book blows up apocalyptic movies, TV shows and books from Planet of the Apes to The Road. Fans of the series have long been clamoring for zombies, and there's plenty of undead shuffling throughout the book. There's also an illustrated Dr. Seuss parody from the POV of a friendly, deadly virus called Oh, The Flesh You Will Eat!, a lock for this year's Newberry medal.
Time has run out! The world is ending every possible way in The Devastator: Apocalypse –– get it now at DevastatorPress.comor April 18 at WonderCon Anaheim (Booth 610).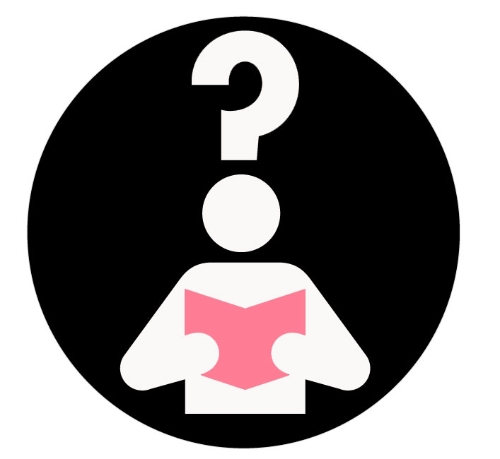 WHAT IS DEVASTATOR PRESS?
Radioactive waste from the apocalypse has mutated The Devastator to grow a new imprint, Devastator Press –– focused solely on original humor from The Devastator's signature style of geeky parody and satire!
"After a long night of googling and heavy drinking," says Devastator co-publisher Geoffrey Golden, "we've concluded that Devastator Press is the only book publisher in America that exclusively prints humor. It's a very exciting opportunity, and it makes us the most special of all the snowflakes!"
Devastator Press will release several titles in 2014, including Super Advanced Wizards of C*ckblock Forest (April), Slash Fiction Through The Ages (April), The Devastator: Apocalypse (April), Frankenstein's Girlfriend (May), The Devastator: Otaku (October), 400 Reasons to Marry Your Cat (October), and this summer, a parody of Goosebumps that'll give you… skin lumps… or something! Look out for the Devastator Press catalog this summer.
DEVASTATOR PRESS: FUNNY BOOKS FOR HUMANS!