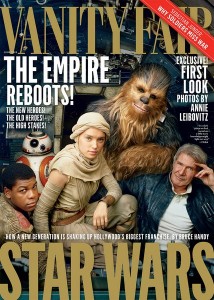 Vanity Fair has kicked off Star Wars Day in grand fashion.
As with every SW:TFA reveal, we have ten more questions and December seems that much father away.
Here's what's new:
Adam Driver is officially playing Kylo Ren, the cross-guard lightsaber enthusiast. Not a huge shocker.
Lupita Nyong'o is going CGI to play a pirate named Maz Kanata who has a castle full of non-CGI aliens, most of whom are surely to be scummy and/or villainous.

There's one more "big" character reveal on Tuesday at 4pm (EST). Luke? Leia? Jar-Jar? (I kid, I kid).
Head over to Vanity Fair to check out the rest of the photos and a short video.
Vanity Fair's June issue, available as a digital edition on Thursday, May 7, and on newsstands nationwide on Tuesday, May 12.