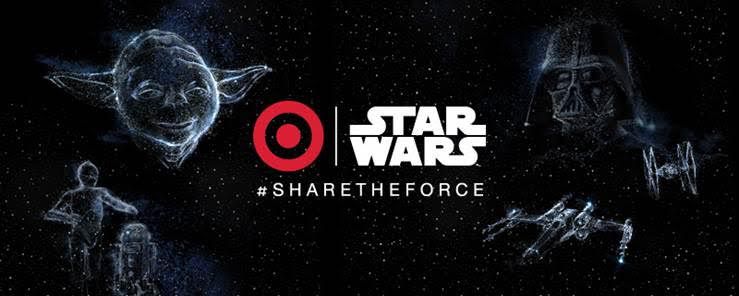 For release:
In anticipation of "Star Wars: Episode VII – The Force Awakens," Target has announced the launch of "Share the Force" (ShareTheForce.Target.com), the first digital collection of Star Wars memories. The collection, which will include celebrity fans Minka Kelly, Chris Hardwick and Bobby Moynihan, will go on to be archived at Lucasfilm – becoming an everlasting example of how we're all connected by the force. Until now, no one has attempted to collect and capture memories from the 147 million Star Wars fans throughout the world, and Target is introducing a unique program to unite these generations of fans in a way that only Target can do.

The "Share the Force" website offers an interactive and shareable way for fans to find their place in the Star Wars galaxy by including their personal memories, resulting in a collection that will span generations, cultures and continents. Starting today, fans can submit their memories (either photo or story) at ShareTheForce.Target.com to transform their memory with a Star Wars hologram treatment and receive their own galactic coordinates pointing to their permanent place in the galaxy.

To take a tour of the "Share the Force" experience, visit: https://youtu.be/FPAjVgPdx3o
And – check out Target's "Share the Force" online campaign spot here: https://youtu.be/eOv3Qi7Vr5g

Stay tuned for additional details regarding "Force Friday" on September 4, 2015.